"He is able" January 2019 free desktop and iPhone wallpaper download is here.
Enjoy this hand lettered bible verse art print and desktop and mobile wallpaper.
I'm kicking off 2019 with my first freebie of the year. I have been wanting to create and giveaway wallpapers and just haven't had the chance. But I wanted to make it happen this year.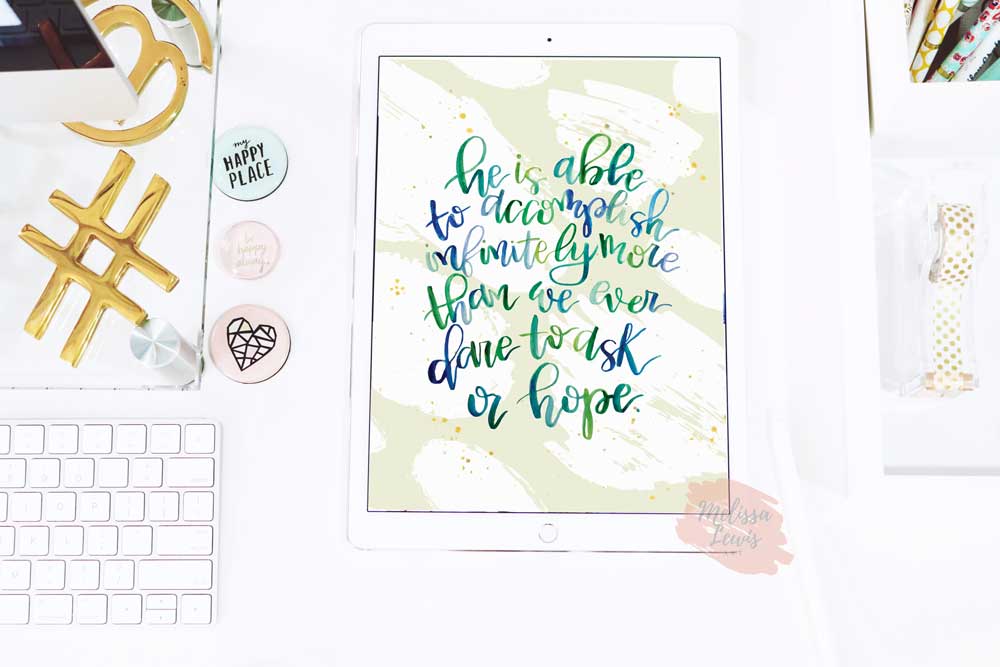 Y'all know I'm a believer in surrounding yourself with inspirational words and quotes. We spend so much time on our screens and I love being able to have this where we can see it at any moment of the day.
God is not just able to do beyond what we ask, but abundantly beyond. But that's not enough, He is able to do far more abundantly beyond what we ask.
So what if when we prayed we pray in faith, asking God to do far beyond all that we can ask or think.
Watch this time lapse video of me lettering January's wallpaper.
The "He Is Able" January 2019 Free Desktop and iPhone Wallpaper is inspired by a scripture God has placed on my heart for 2019.
Which in turn also inspired my word of the year, abundance. My hope is to be able to do one of these for each month this year. I hope you find this as inspiring as I do. Enjoy!